3rd Australian Whippet National 2013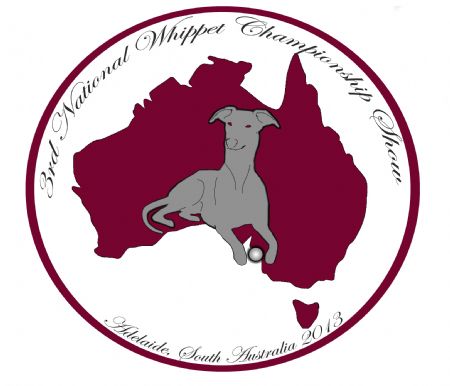 3rd Whippet National Championship Show
Hosted by
the Whippet & Greyhound Club of SA Inc
Adelaide, South Australia
25th & 26th May 2013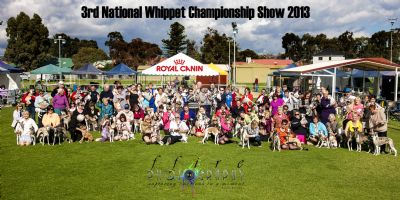 With a record entry of 320 exhibits representing every Australian State and Territory and visitors from across the country and abroad and over 2 years in the planning, this National exceeded all our hopes and expectations. Deemed by many to be the best National held so far, we are indeed humbled by the many accolades received both from within and outside of the Whippet fancy.
The trophy table of prints, bronzes and so many sponsored donations was superb. The atmosphere was friendly, social and very happy. The grounds were in super condition and the weather was in every way perfect, from the lack of wind which caused our international flags to hang limply on the flagpole, to the eerie but magical mist that enshrouded the grounds on Sunday morning to the perfect full moon which bathed the scene in moonlight as the last people left the grounds on Sunday night. Our grateful thanks go to club members Yvonne Wilson and Helen Jones for the lovely plants which were used to decorate our ring, comprising an array of ferns and other greenery with a little splash of colour emerging through the greenery.
Our lady judges were professional and engaging. The amazing entry of 320 Whippet dogs and bitches came from far and wide to compete in the conformation classes judged by one of the world renowned Sjighthound specialist Bitte Ahrens-Primavera of the famous Sobers Kennel (Italy). Bitte chose for her Best Exhibit In Show the very popular Supreme Ch Peperone New Sensation, owned by Elmaro Kennels and fondly known in the Whippet fraternity as "Cooper". For her Opposite Sex and Runner Up to Best Exhibit In Show, Bitte chose N Rule-Steele/C Henderson's Ch NZ Ch BeesholmeTygerTyger (Imp NZ). known to us all as "Marina". Our hearty congratulations go to the breeders, owners and handlers of these two lovely Whippets. Hailing from our neighbour country, New Zealand, was the well known Nicole Harrison of the Devine Kennel. Nicole judged our property classes and drew an excellent entry of 110 Whippets competing in the Australasian Challenge comprising the Best of the Best, Futurity Challenge comprising our upcoming youngsters and the various property classes usually scheduled at specialty shows
The show would not have been the success that it was without our stewards, Bill Godfrey and Colin Dickens and our amazing show manager, David Hill who made sure everything ran like clockwork.
Photographers, we had the best. Teaming up with Josie and Mark Haseldine, our favourite Adelaidians, was the amazing Ffiona Erskine of Ffire Photography, Sydney. Invited to join this group of specialist photographers, we were delighted to welcome the amazing Pauline Oliver (PaulineOliverFotos – United Kingdom) Pauline is a world renowned Whippet breeder and specialist judge who also happens to be an amazing photographer and teamed up with our appointed photographers creating quite a collection of expertise. A very special moment was enjoyed by all exhibitors who were asked by the creative Ffiona to bring their Whippets and collect in the centre of our ring for a group photograph. We estimate that 150 Whippets and their owners took part in this very clever image, captured by the talented Ffiona while perched on the top rungs of a ladder… she who is afraid of heights!. Pedini were there to capture the entire event on Video and we look forward to reliving this amazing show for years to come through the DVD which is now released.
The committee aimed to make this show special and to achieve that aim endeavoured to introduce a few special treats. Firstly, our very respectful and moving Opening Ceremony adjudicated by Show Manager David Hill, assisted by our Treasurer Jasper Bowering comprised a salute to the three nations of New Zealand, Italy and Australia with a flag raising ceremony of each of the countries together with acknowledgement to the traditional owners of the land upon which the show was held. Secondly, our very unique place markers, playful Whippet caricatures, cleverly created by Chris and Kevin Lawrence (Beauchasseur Basset Hounds & PBGV). At the completion of the show we auctioned them and, not surprisingly, they created vigorous bidding, inciting quite a stir amongst the bidders. Thirdly, a real treat for all exhibitors winning a first, second or third place…. the judges' critique available within minutes of the completion of that class.
None of this could have been realised without the entire committee participating in the various fund raising endeavours that preceded this event. Bunnings BBQ's, raffles, peddling the various merchandise and giving generously of their time. There are many people and organisations to thank for their generosity and support, Royal Canin, Saphala, John Bink (Earlingford Basset Hounds and Whippet fancier), and so many others to whom we are extremely grateful.
There are others who have worked behind the scenes to ensure our success as well, Sue Delaney who coordinated our Catalogue, Krystal Lewis, whose artistic talent was the creator of our logo, the helpers on the day before the show who set up our ginormous trophy table, those who sold raffle tickets far and wide, too many people to thank individually.
Certainly this was the event to be at and to say it was social is an understatement. For me it was kind of like a big party with friends re-acquainting, new friendships formed and everyone enjoying the occasion We were delighted that so many stayed for the presentations and even more pleased that so many stayed on for the day in the Barossa at Schill's Estate Lyndoch. A perfect finale to an unforgettable National Show
Our "cheeky" place markers

and.... the FABULOUS Trophy Table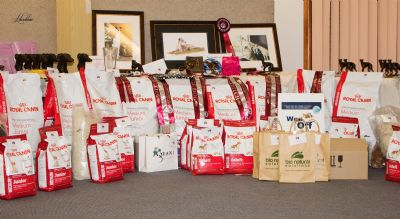 Thank you to Josie & Mark Haseldine for the above two images - Haseldine Photography
RESULTS & CRITIQUE
PHOTOS OF OUR WINNERS courtesy of Ffire - Ffiona Erskine
and the WINNER is...... Supreme Australian Champion Peperone New Sensation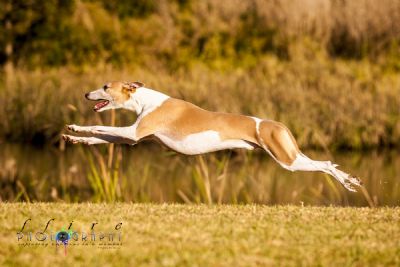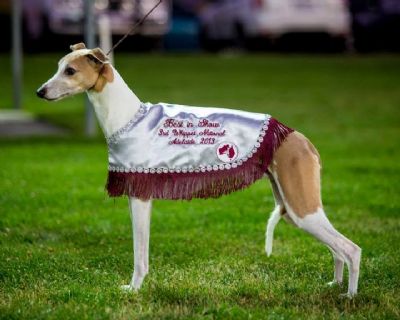 BEST EXHIBIT IN SHOW

OPEN IN SHOW

DOG CC

RUNNER UP & BEST OPPOSITE SEX IN SHOW

OPP OPEN IN SHOW

BITCH CC

BEST BABY PUPPY IN SHOW

OPPOSITE BABY PUPPY

BEST MINOR PUPPY IN SHOW

OPPOSITE MINOR PUPPY

BEST PUPPY IN SHOW

RESERVE DOG CC

OPPOSITE PUPPY

BEST JUNIOR IN SHOW

RESERVE BITCH CC

OPPOSITE JUNIOR

BEST INTERMEDIATE IN SHOW

OPPOSITE INTERMEDIATE

BEST AUSTRALIAN BRED IN SHOW

OPPOSITE AUSTRALIAN BRED

BEST OPEN IN SHOW

OPPOSITE OPEN

As for Best Exhibit In Show
As for Runner Up Best Exhibit In Show

BEST VETERAN IN SHOW

OPPOSITE VETERAN

BEST NEUTER IN SHOW

BREEDERS TEAM

AUSTRALASIAN CHALLENGE

FUTURITY 6-9 mths

FUTURITY 9-12 mths

FUTURITY 12-18 mths

SIRE & PROGENY

DAM & PROGENY

BEST HEAD

BEST GAITED
Please go to our "LINKS" page to contact all of the Photographers for this show