2014 Championship Show
Championship Show Results
Judge: Mrs Sue Cameron-Codognotto(Vic) Ozrhode Kennels
Supreme Champion Peperone New Sensation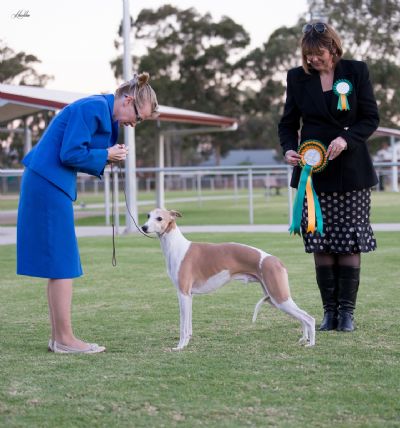 R/UP BEST EXHIBIT IN SHOW
Wyldchase Wearing CK Escape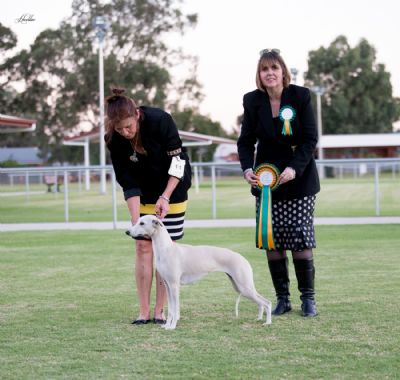 PUPPY IN SHOW
Wandarrack Darcy's Design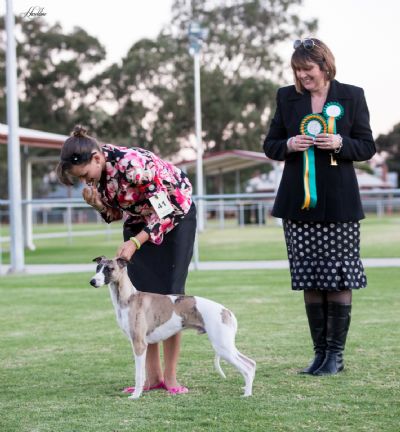 Best in Show
Sup Ch Peperone New Sensation -Elmaro Kennels, Whippet
R/U Best in Show Wyldchase Wearing CK Escape - G Love/K Hutt, Whippet
Baby in Show Whirlaway Star Gazer -Whirlaway Kennels, Greyhound
Minor in Show Elmaro Sweet As Sugar -Elmaro Kennels, Whippet
Puppy in Show Wandarrack Darcys Design – A Anderson, Whippet
Junior in Show Arjai Like A Criminal – G Love/K Hutt/ J Kramer, Whippet
Intermediate in Show Ch Chakrata Whispering Jack - A Curran, Whippet
SA Bred in Show Ch Wyldchase With Gold N Silver - G Lee/G Love/K Hutt, Whippet
Aust Bred in Show Wyldchase Wearing CK Escape - G Love/K Hutt, Whippet
Open in Show Sup Ch Peperone New Sensation -Elmaro Kennels, Whippet
Veteran in Shown Ch Skeway Sunset Stripper - A Curran/J & A Gunn, Whippet
Critiques - 5 April 2014 – Sue Cameron-Codognotto
Firstly, I would like to take this opportunity to thank both the Club for their wonderful hospitality and the exhibitors for their entries and for taking my decisions so graciously and in such a good sporting manner. It was a pleasure to judge your beautiful dogs.
Apologies to all exhibitors but unfortunately my voice recorder malfunctioned and I do not have my commentsafterwhippet puppy dog. I have recreated these critiques from memory, where possible.

H O U N D S
GREYHOUNDS
Despite the limited number of exhibits I found quality in my greyhounds, in particular with the babies, which bodes so well for the future.Baby Puppy Dog
BABY PUPPY DOG

1. Whirlaway Astronomer (AI)
4 month old brindle baby puppy going through that awkward developmental stage at the moment with his topline suffering a little.He had excellent bone, good head but would prefer a darker eye. Happy and active on the move.Open Dog& Runner Up Best of Breed
OPEN DOG & R/UP BEST OF BREED
2. Ch Whirlaway Classic BeyondBelief (AI)
Upstanding, strong,well balanced, 4 year old brindle male of good size and substance. I would prefer a little more length to him to enable him to stand over more ground. Good depth of chest, bone, head and hindquarter. Movement was straight, clean coming and going, but lacked a little power on his side gait.y Puppy Bitch& Baby Puppy in Show
BABY PUPPY BITCH & BABY PUPPY IN SHOW
3. Whirlaway Star Gazer (AI)
A gorgeous 4 month old brindle baby bitch. Extremely well balanced for her age, exhibiting excellent depth of chest, well ribbed back, with good length of back and long loin. . Elegant long neck, going into well laid shoulders, with strong bone. Lovely long head with a good eye. Loved her on the move as she covered the ground well and will continue to strengthen with muscle development. A very promising baby, whose future bodes well.

PUPPY BITCH & BEST OF BREED
4. Whirlaway Dizzy Miss Lizzy
To me the fundamental aspect of the Greyhound standard that reverberates in my mind is the word long. This elegant upstanding 9 month old brindle bitch had goodbalance fore and after and stood over a lot of ground. Deep capacious chest, well ribbed back, good long back, topline and powerful loins, good bone and hindquarter. Lovely long head, good ears and eye. Elegant on the move showing an effortless low reach and powerful drive, she could if given the opportunity cover the ground at great speed.
WHIPPETS

As an overview of my whippet judging, I look primarily for shape, flow, overall balance with no form of exaggeration, an elegant dog that stands over ground, with daisy cutting effortless movement conveying power. I was thrilled to find such quality in the whippet classes, generally making my decisions very difficult.Bby Puppy Dog
BABY PUPPY DOG

6. Wingstar The Rifleman
Well behaved, lovely fawn 5 ½ month old baby puppy dog. Good front angulation including lovely neck into shoulder (despite a protruding vaccination seroma) but felt he could benefit from a little more hindquarter. Sound mover.

PUPPY DOG & PUPPY IN SHOW
7. Wandarrack Darcys Design
This 6 month old parti brindle boy impressed mewith his overall symmetry, smooth flowing outline, and no form of exaggeration. Good size, bone, feet and lovely long lean head, rose ears and eye. Good fill, depth of chest, well ribbed back with good arch and length of loin. On the move he was true out and back and showedeffortless daisy cutting movement. Overall, he was a lovely promising puppy who stood over a lot of ground.
JUNIOR DOG & JUNIOR IN SHOW
11. Arjai Like A Criminal
This lovely elegant12 month old male displayed good balance, outline,breed type and great true movement.
INTERMEDIATE DOG & INTERMEDIATE IN SHOW
13. Ch. Chakrata Whispering Jack
This 2 year old blue parti-brindle boy, displayed the desirable strength and elegance that the breed standard calls for. He was well balanced fore and after, had good fill and construction throughout and was sound on the move.
AUSTRALIAN BRED DOG & RESERVE CHALLENGE DOG

17. Ch. Daneson Darcez Artful Dodger
This 2 ½ year old elegant fawn male impressed me with his quality and overall symmetry giving me a smooth flowing outline. Lovely front and rear angulation, good shoulder placement, depth of chest and well ribbed back. Beautiful, typical head with good eyes and rose ears. On the move he was true out and back and exhibited good reach and propulsion from the rear ensuring it all looked effortless. He is a lovely dog.

OPEN DOG, CHALLENGE DOG, BEST OF BREED, BEST EXHIBIT IN SHOW & BEST OPEN IN SHOW

21. Sup. Ch. Peperone New Sensation
This dog gained and held my attention the moment he entered the ring, he simply oozed class and quality. From the top of his head to the tip of his tail, everything flowed smoothly giving him a beautiful well balanced shapely outline with no exaggeration whatsoever. Exhibiting the required strength combined with elegance there is little to fault on this dog. He possesses a gorgeous typical head with beautiful eyes and terrific ears. Super graceful free movement with daisy cutting front action and a hindquarter conveying power, he typifies correct whippet movement for me. This dog in my opinion is the complete package, and simply epitomises a whippet, hence could not be denied Challenge Dog, Best of Breed, and ultimately Best in Show.
MINOR PUPPY BITCH & BEST MINOR PUPPY IN SHOW

25. Elmaro Sweet As Sugar
Super pretty, elegant parti brindle 7 month old puppy. Beautiful size and well put together for her age. She has a lovely shapely outline. Beautiful typical head with good eye and ears, her good body construction ensured she moved true with good reach and powerful drive. Well presented. She has a great promising future.
PUPPY BITCH
27. Elmaro Chemical Heart
Also very pretty and elegant, this 7 month old fawn bitch, is beautiful on the table. Well balanced, good depth of chest and well ribbed back, loin,which ably assists her good shapely outline. She has a lovely typical head. On the move once she settled she exhibited good reach and drive, she just needs time and some training. Promising puppy who should do well in the future.
32. Chessmen Hocus Pocus
Lovely sized 13 month old pretty parti-brindle bitch with good length and balance. Good topline holding her shape well on the move showing good reach and drive.
INTERMEDIATE BITCH
39. Heroic Legend Du Manoir De La Grenouillere (Imp. France)
This is a super pretty, elegant nearly 2 year old parti brindle bitch of good quality. Stands over a lot of ground. Lovely head, long elegant neck leading into good clean shoulders. Showed good reach and propulsion on the move but for me her topline was just too flat.
STATE BRED BITCH & STATE BRED IN SHOW
40. Wyldchase With Gold N Silver
Fawn and white bitch, who was well balanced and displayedgood shape. Moved out well.
AUSTRALIAN BRED BITCH, CHALLENGE BITCH< R/UP BEST OF BREED, R/UP BEST EXHIBIT IN SHOW & BEST AUSTRALIAN BRED IN SHOW

44. Wyldchase Wearing CK Escape
I loved this graceful elegant 14 month old silver fawn girl the minute she moved into the ring. She kept me captivated with her excellent breed type and overall quality. Beautifully built, well balanced fore and after, good depth and fill, well ribbed back, lovely arch from the last rib over a powerful loin, she filled my eye with her smooth flowing outline. On the move it was effortless, clean daisy cutting front action with good reach and powerful propulsion from the rear. Along with my challenge dog I could watch her move all day.She has a fabulous future ahead of her -- she is one I would happily take home!
OPEN BITCH & RESERVE CHALLENGE BITCH

53. Ch. Coridale On The Catwalk
An elegant Fawn brindle and white bitch with a beautiful outline. She is well balanced fore and after, has good depth of chest and well ribbed back. Lovely long, lean head with good eyes and rose ears. Overall shown in lovely condition and move out extremely well displaying daisy cutting action and power from the rear.
VETERAN BITCH & VETERAN IN SHOW

55. Ch. Skyeway Sunset Stripper
This 12 year old beautiful blue brindle and whitegirl defies her age. Well balanced, with a lovely shapely outline. Gorgeous long, lean head with dark oval eyes reflecting a sweet expression are just to die for. In her time, she would have been very competitive.